By Beth Axford and Kezia Newson
Sarah Jane Smith has long been a legend of the Doctor Who world. First appearing in 1973's The Time Warrior, her character returned multiple times and even gained her own spin off shows The Sarah Jane Adventures and K-9 and Company. She's one of the most iconic women to have stepped foot on the TARDIS, and with lines like "Now just a minute. There's nothing 'only' about being a girl", she's a feminist icon.
This month's release of fourth Doctor novel Scratchman sees the return of our favourite TARDIS girl, and reminded us why we love her so much. The novel, written by Tom Baker himself, is a wonderful testament to a legendary era of the show. Based on an idea Tom Baker and Ian Marter devised for a Doctor Who story, or potential movie back in the 70's, Scratchman is told from the perspective of the Doctor and features Sarah Jane and Harry alongside him. When interviewed for the book release, Tom Baker said of Elisabeth Sladen (who portrayed Sarah Jane on screen):
'Yes it was fun and very poignant. It was marvellous to be with them again, and it was marvellous to be with them in real life.
'I thought Elisabeth was wonderful. She didn't stick around, which was a terrible pity. I missed her terribly – she was legendary, wasn't she? I loved her and she loved me and there was a wonderful relationship, a confident relationship which comes out in Scratchman, I hope.'
There are some real kick ass moments for our Sarah in this book, but we won't spoil them for you – we'll leave you to read them yourself!
It got us thinking about Sarah Jane moments that are close to our hearts, so to celebrate the release of Scratchman, here are our highlights from her time in the world of Doctor Who.
Kez
Sharing feminist advice across the universe

As mentioned above, we couldn't not include this character defining moment from Sarah Jane in The Monster of Peladon. After visiting Peladon previously with Jo, the Third Doctor is back, and this time there's a young woman on the throne, Queen Thalira. At the brink of civil war, and with men left, right and centre advising her on what to do, Thalira despairs. Spending time with Sarah to get some advice, she hears about how women are treated on earth. Thalira can't see how anything like feminism could ever be replicated on Peladon, "It would be different if I was a man. But I'm only a girl." Not having any of it, Sarah replies "Now just a minute. There's nothing only about being a girl, your Majesty. Never mind why they made you a Queen, the fact is you are the Queen, so just you jolly well let them know it."
I think we could all do with that pep talk from Sarah once in a while.
"I can manage. I don't need your help, thank you!"
One of our favourite interactions between Doctor and companion is in The Ark in Space between the Fourth Doctor and Sarah Jane. Struggling to squeeze through the ship's conduits to feed a wire through and ultimately save the day, Sarah gets jammed (and it looks bloody terrifying too!). After being encouraging, the Doctor tries a different tactic and hurls insults at her: "That's the trouble with girls like you. You think you're tough, but when you're really up against it, you've no guts at all." Absolutely enraged, Sarah struggles to get at the Doctor to show him exactly what she's made of. She bats away any help and, if it wasn't family television, would have mouthed off to the high heavens at the Doctor. Her determination and tenacity are a complete wonder, and dispel any myth about female companions in classic Who being simply fluff. In fact, we like to think her feminism saved everyone on that ship.
Standing against anti-feminist language
The relationship between Sarah Jane and her fellow time traveller Harry Sullivan is quite a unique watch. Put quite simply, she finds him incredibly irritating, (which he is really.) Sticking to stereotype, he continuously puts Sarah down, laughs at her or simply infers that she can't do exactly what she intends to do. He's incredibly well meaning and thinks very highly of her, but is a perfect example of what society's impression of masculinity can have on a perfectly nice man. In The Ark in Space, after referring to Sarah affectionately as 'old girl' or 'old thing' many times previously, he says "Steady. Steady on, old girl. Steady on." as Sarah is coming round. The first thing Sarah can say is "Harry, call me 'Old Girl' again and I'll spit in your eye." It makes us laugh every time! Sarah showing where her priorities lie straight after being knocked unconscious. She won't stand for any dated language, and refuses to be Harry's inferior in any way. You tell em' Sarah Jane.
Being vulnerable with her feelings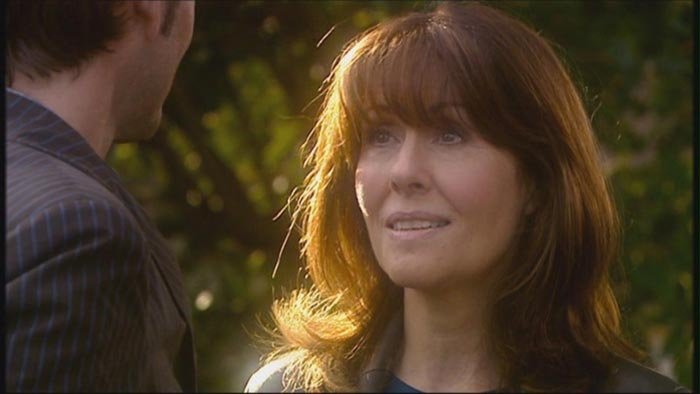 As much as we love Sarah Jane for her resilience, what makes her so amazing is how she isn't afraid to show her emotions. In School Reunion, after being blown away that the Doctor is there in front of her, she doesn't shy away from the difficult conversation. Speaking on behalf of millions of women getting answers from their ex, she heartbreakingly asks "Did I do something wrong, because you never came back for me. You just dumped me?" It's so sad that Sarah would have questioned, just like other women after a break up, that they weren't good enough, that they didn't do enough. As much as she saw the universe, she opened up her heart and ultimately had it broken. Being brave enough to confront the Doctor, to tell him she had waited for him, and missed him sounds all too domestic and familiar –a place where Doctor Who excels. The dialogue is controlled solely by Sarah, with the Doctor bashfully trying to display his affections, and quite frankly, failing. In this moment Sarah Jane showed girls everywhere that women can be tough and vulnerable at the same time. What a hero.
Beth
Compassion and Humanity in Robot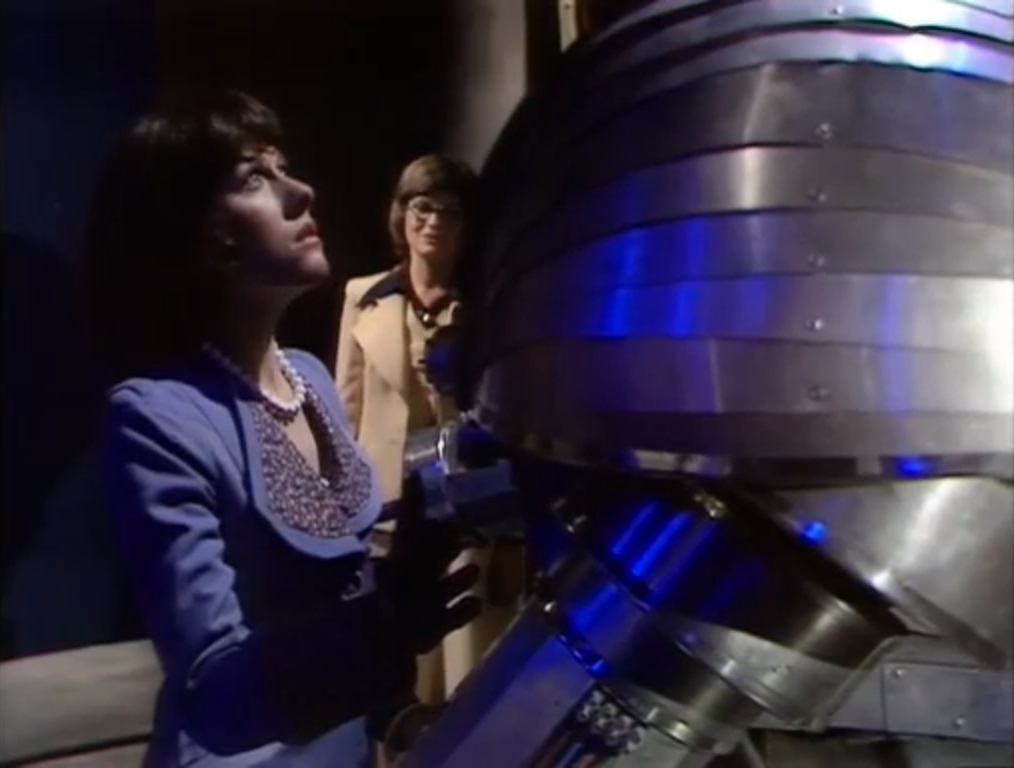 Sarah Jane's compassion and humanity are some of her greatest features and are demonstrated perfectly in 1974's Robot. The fourth Doctor's debut appearance featured a Robot called K1, created to carry out activities that are dangerous to humans and housed in a facility called 'Think Tank'. When Sarah sneaks into Think Tank and asks the director if K1 is dangerous, they order it to kill her and watch on as it struggles in distress. It is explained that it is impossible for K1 to harm humanity, and as a result the robot suffers with the conflict of the instructions and it's basic programming. Sarah Jane empathises with K1, even though its owners suggest it has no feelings. She apologies to K1 and says that the demonstration of its distress was cruel – a touching and powerful moment that solidifies why we love her so much.
Sarah Jane Returns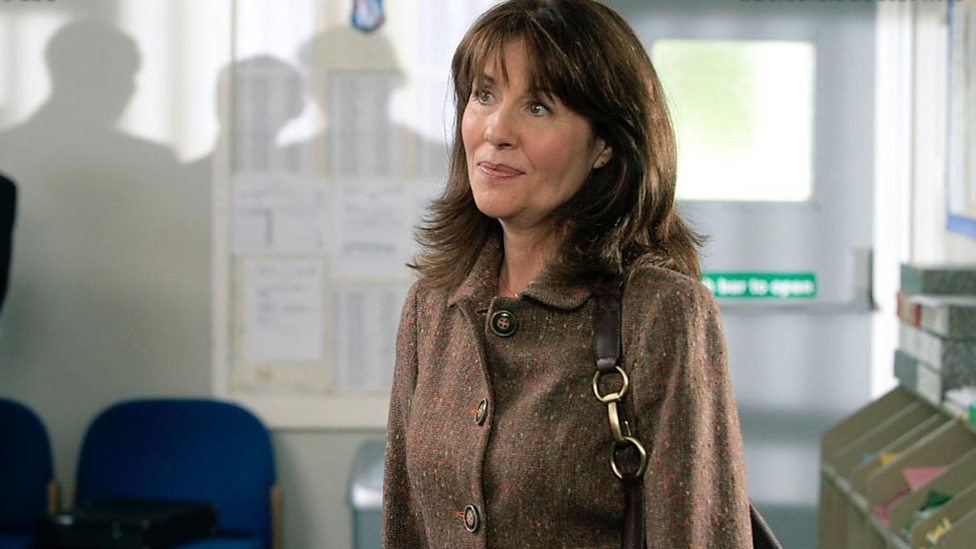 School Reunion solidified Sarah Jane into the hearts of a whole new generation of Doctor Who fans, and the instant we first see her on screen again after so many years is delightful. Even if you've never seen the show before, you know that its an important moment for the Doctor and the woman who has just walked into the room. Sarah continuing her journalism and research into strange goings on is a golden highlight for us. In a new regeneration since he last saw her, she has no idea who the Doctor is and introduces herself while he smiles delightedly. When he tells her that he is 'John Smith', the ruse continues, and she even recalls that she 'knew a man who went by that name'. The exchange is full of nostalgia and is wonderous to watch, but most of all it's amazing to see Sarah continuing to boss life all those years after leaving the TARDIS. The way she carries herself and her strong willed nature shine through in the same way it always did, leaving no doubt that the character is legendary.
Sarah Jane meets Jo Grant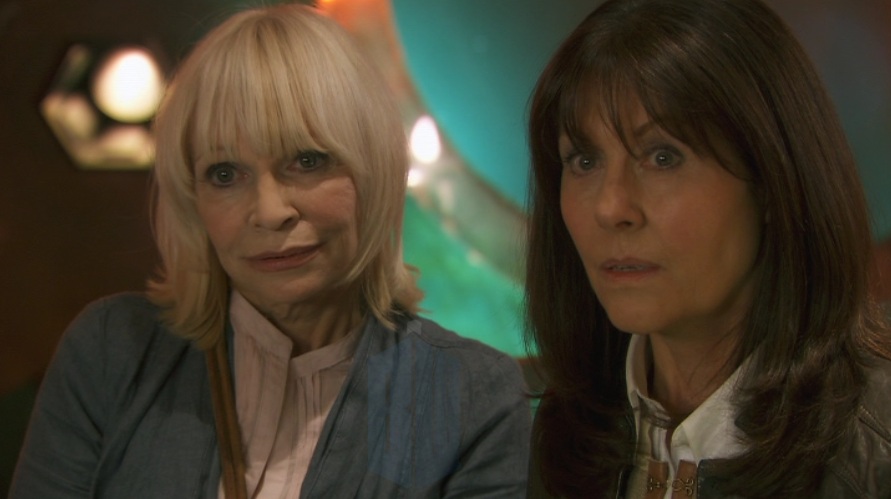 Sarah Jane Smith and Jo Grant are two of Doctor Who's most iconic women, so it's no surprise that their meeting is one of our favourite moments from the both of them. After being called to the Doctor's 'funeral' they both excitedly share stories and hugs while explaining their doubt that their time lord friend is really gone. The scene fills our hearts with adoration for the pair as they bond over their mutual friend, and it's truly wonderful to see the characters on screen after all those years. Together, they work out the truth and help the eleventh Doctor save the day. The sheer dedication and force of nature the two possess in this story is why we love them both so much, and shows Sarah Jane at her very best.
Goodbye Sarah Jane
Sarah Jane's final appearance in Doctor Who came in David Tennant's swansong story, The End of Time. The episode saw the tenth Doctor embark on a farewell tour, saying goodbye to all his friends before his regeneration. As Sarah's son, Luke Smith, crosses the road in front of an oncoming vehicle, the Doctor stops the inevitable collision and saves Luke's life. This moment is much more poignant now after the death of Elisabeth Sladen – who plays Sarah Jane – in 2011. The moment Sarah runs out into the street and has one last goodbye with the Doctor is in fact her final appearance in Doctor Who itself. Elisabeth carried on saving the world in The Sarah Jane Adventures until her death, but this scene feels final and heart-breaking considering the sad context outside of the show. *Sob*
If you want more Sarah-Jane, or even more fourth Doctor or Harry, you can purchase Scratchman by Tom Baker now.